Rent-a-Car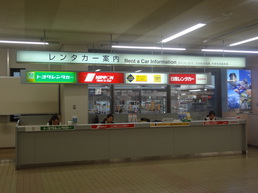 Rent-a-Car Counter
Business hours:8:30〜19:30
Address:Yo-50 Ukiyanagimachi, Komatsu 923-0993, Ishikawa Pre.,
Komatsu Airport Terminal Bldg 1F.
Rent-A-Car Information Desk
【Services】
・Reception Desk for customers who have reserved a rental car with Toyota Rent-a-Car, Nippon Rent-a-Car, Orix Rent-a-Car, Times CAR RENTAL, Nissan Rent-a-Car, J-Net Rent-a-Car.

・Make arrangements and necessary contacts to car rental shops for customers at the counter.
Contact Information
Toyota Rent-a-Car 【CEP service is available】
TEL: 0761-24-0100
Toyota Rent-a-Car Komatsu Airport Shop
NIPPON RENT-A-CAR 【CEP service is available】
TEL: 0761-24-0919
Nippon Rent-a-Car Komatsu Airport Shop
Orix Rent-a-Car 【CEP service is available】
TEL: 0761-21-0543
Orix Rent-a-Car Komatsu Airport Higashi Rental Site
Orix Rent-a-Car Komatsu Airport Nishi Rental Site
Times CAR RENTAL 【CEP service is available】
TEL: 0761-23-3838
Times CAR RENTAL Komatsu Airport Shop
Nissan Rent-a-Car 【CEP service is available】
TEL: 0761-24-4123
Nissan Rent-a-Car Komatsu Airport Shop
J-net Rent-a-Car
TEL: 0761-24-4041
J-net Rent-a-Car Shop (Japanese language only)