Outline of HIACT
Hokuriku International AirCargo Terminal Co., Ltd.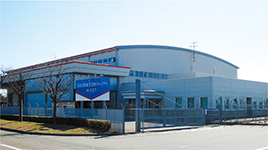 The 21st century will be the Age of Air Travel. In July, 1994, cargo service began between Komatsu and Luxembourg . A lot of aircargo from Europe and other continent began to arrive at Komatsu Airport in Ishikawa.

As in the Age of Great Voyages in the 15th to 17th centuries, people, goods and information are moving quickly around the world. As a result, big business opportunities are about to be available. HIACT hopes to participate in this era as a leading international distribution base. Our motto is "faster and more reliable."
1. Purpose of Establishment
HIACT was established as a third-sector organization in order to handle international air cargo at Komatsu Airport. (HIACT was officially registered and established on March 10, 1994. )
2. Location
Komatsu Airport, ha-39, Kusano-machi, Komatsu City, Ishikawa
3. Capital
1,230,000,000 yen
4. Constitution of Investors
| | |
| --- | --- |
| Local Governments | 555,000,000 yen (45.1%) |
| Airline Related Companies | 210,000,000 yen (17.1%) |
| Local Companies | 151,000,000 yen (12.3%) |
| Transportation Companies | 148,000,000 yen (12.0%) |
| Financial Institutions | 100,000,000 yen (8.1%) |
| Chambers of Commerce | 66,000,000 yen (5.4%) |
5. Executives
| | |
| --- | --- |
| President | Taketoshi SUGIMOTO (Ishikawa Vice-Governor) |
| 12 Directors | (including 3full-time directors) |
| 3 Inspectors | (including one full-time inspector) |
6. Content of Operations
(1) Handling, loading and unloading, storing and transporting cargo in the warehouse
(2) Maintaining the warehouse
(3) Maintaining the warehouse, its office and related facilities
(4) Airline agency operations
7. Major Facilities
Warehouse
one story steel frame building with tent curtains 1,476m2
one story steel frame building 2,585m2 (newly opend in may 2002 )
total : 4,061m2
Fumigator
Storage Shelter
one story steel frame building covered with tents
Fumigator
20 foot long container equipped with a sterilizer
Refrigerated storage space
Approx.110 m3(0-8 degree C) with dockshelter, air curtain and ultrasonic humidifer
Truck Yard
2,363 square meters
8. Major Machinery
| | |
| --- | --- |
| 27 ton Main Deck Loaders | 2 |
| Tractors (for Dollies) | 4 |
| 10 ton Fork Lift | 1 |
| 6 ton Fork Lift | 1 |
| 3.5 ton Fork Lift | 1 |
| 2 ton Fork Lift | 6 |
| Dollies | 65 |
| 1,600 Liter Refrigerator for Business Use | 1 |
| 20 feet long Refrigerator / Freezer Container | 3 |